Ubisoft and the developers responsible have released a new update for Hyper Scape today. Below are the full patch notes for this November 18th update.
The Hyper Scape Update 1.23 can now be downloaded. On the PS4, the download size is 2,7 GB, depending on the platform, the size can vary.
Hyper Scape Patch Notes 1.23 / 2.3
NEW FEATURES
BETA TEAM DEATHMATCH
Patch 2.3 finally introduces the long-awaited team deathmatch (aka "TDM") game mode!
Team Deathmatch is a new fast-paced 6v6 game mode taking place in specific areas of Neo Arcadia. In this mode your goal is to be the first team to score 40 enemy eliminations or be the team with the highest elimination score after 10 minutes, whichever comes first.
In TDM, each time you get eliminated you will respawn at a safe location after a few seconds, and you will keep your hacks & weapons at their current fusion level. Loot can be found all around the map when the match starts and will respawn over time so you can try to maximize your loadout during the match.
Team Deathmatch will be available for several consecutive weeks following the release of patch 2.3, as a third game mode next to Crown Rush Solo & Duo – but based on its success we might extend its availability. At launch TDM will use the foundry map, but we plan to test new maps in rotation in the following weeks.
Key Mechanics:
The match starts after a short warmup phase, replacing the waiting lobby. During warmup players are free to play and experiment with weapons and hacks before the match starts.
6v6 mode via multiple squads of any size. Players can join with a squad, or alone if they disable backfilling.
Eliminated contenders do not drop their equipment but drop ammo.
Eliminated contenders Respawn automatically after a few seconds.
Contenders respawn with their previous loadout including Fusion levels to provide a tactical and progression layer to the match.
Loot respawns slowly over time; the loot content is randomized for each new match but stays the same during the match.
Victory Condition:

Score (first team to reach 40 points).
Timer (team with the highest score after 10 minutes).
Important: team deathmatch is still in beta. We are already working on multiple improvements, but we intend to monitor it closely and adjust our plan based on your feedback.
TDM Beta Disclaimers:
The mode is still work in progress and may still contain important bugs or exploits.
Game rules & major balancing points could be changed frequently as we tune the experience and address bugs & exploits on the fly.
For now, only one map will be available to play at a time. However, we plan to rotate the chosen maps in order to test several of them (look for official communication for more details during the TDM weeks).
Challenges are disabled in Team Deathmatch for now.
Crowncast features may not all work as expected in Team Deathmatch for the moment.
BETA ARCADIUM (FREE ROAM MODE)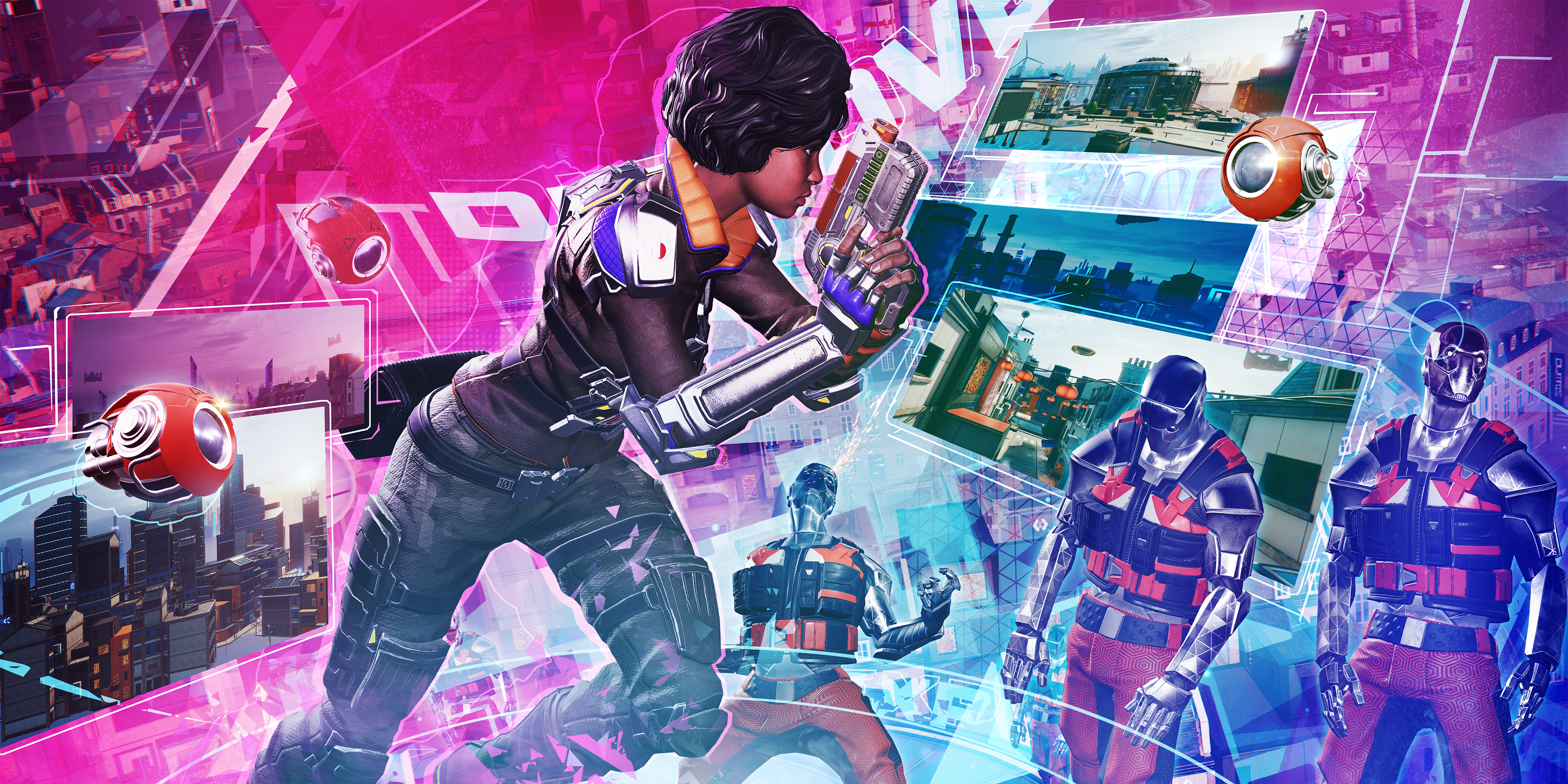 The Arcadium is a new free-roam training mode where the entire city of Neo Arcadia is yours to explore at your own pace.
In Arcadium you'll be able to practice your parkour and train with different hacks and weapons without worrying about interruptions. Target bots and flying drones will be present in Neo Arcadia to help you improve your marksmanship. Arcadium is a solo mode for now, but we are looking into making it accessible to a Squad of friends in the future.
You can access Arcadium in the Play Portal under the train tab or from the Training portal in the back of the HUB.
Key Mechanics:
Solo
No Sector Decay & no Game Events.
Player spawns in the Throne Hall.
All Season 2 hacks and weapons available.
AI Bots/drones spread across The Red Tiger district, and near The Line and Throne Hall.
Bots/Drones Behavior:

Respawn after 1 minute when destroyed.
Flying Drones strictly follow their set path – ignore any obstacles or forces that might slow, stop or move them from their path such as Wall, Shockwave or Magnet hacks.
Do not attack the player.
Do not drop loot on destruction.

Exit/End the mode through menu by going back to Hyperscape.
Important: arcadium is still in beta. We are already working on multiple improvements, both on AI & content, but we intend to monitor it closely and adjust our plan based on your feedback.
CONTROLLER AIM ASSIST
Improving the game's aiming comfort is critical to make Hyper Scape more accessible and more welcoming for new players. In this patch, we are introducing a series of controller aiming comfort improvements, in particular on the Aim-assist Adhesion that has been fully refactored.
Reminder: There is a controller setting to let players reduce the intensity of the adhesion if they wish.
To maintain balance between Keyboard and Mouse (KBM) & Controller on PC, the level of aim-assist has been increased for KBM players on several weapons.
As always, we will be monitoring the game and your feedback closely to continue adjusting the level of comfort in the future.
HEALTH KIT PICKUPS
We received positive feedback regarding the Candy pickups of Halloween and decided to extend the idea beyond the event. With patch 2.3, health pickups will be added all over Neo Arcadia when playing Crown Rush modes (Solo, Duo, Squad).
Health Kits will instantly restore 20 hp when picked up (note: you can pick them up even when at full health, but they will not increase speed like the Halloween Candies did).
With this change, the "Health Kit" Game Event will be removed from all Crown Rush game modes.
CROWNCAST TWITCH EXTENSION ON MOBILE
Starting November 20th, the Crowncast Twitch extension will now work on Twitch's mobile app!
All the features found on the desktop version like Game Event voting and Battle Pass level-up by watching streams will now work on mobile. For a quick refresher on everything Crowncast offers, please check out the overview page on our official website!
COMMUNITY VOTING
We're adding a Voting/Feedback system that will enable us to directly ask specific questions to the community and allow for collection of multiple-choice responses. These will be questions coming directly from the developers which will give players new opportunities to provide their feedback on certain elements of the game and the overall experience.
Developer Notes: Your feedback will help us shape the future of Hyper Scape, let us know how you feel about the game!
SYSTEMS
EXTENDED SEASON 2
With our new frequent Title Updates approach (read more about it in our blog post), we've made the decision to extend the duration of Season 2.
This means several things:
We'll be updating the Game modes lineup that was already planned. Stay tuned for official communications and roadmaps to know when certain modes will become available
We're removing the end of season timer in the Battlepass
We'll be extending the Daily Shop rotation and Challenges
As always, we will be communicating any changes and new features ahead of Title Updates to give everyone a glimpse of what we're working on. Stay tuned for more exciting new stuff coming soon to Hyper Scape!
PLAYER RANKING & DIVISIONS
Patch 2.3 will reactivate the Player Ranking system by making duo crown rush a ranked mode. The current rankings will be reset to allow players to compete fairly following all the recent changes in that system.
Each of the 6 Player Ranks have now been broken down into more granular divisions. Each Rank will have 5 Divisions, and each Division will have its own logo allowing for quick comparison between players. As part of this change, the Ranking thresholds have been rebalanced to allow for a wider spread of competition providing more opportunity for progression and player comparison.
Also, the Ranking page is now available from the Hall of Champions in the HUB: You can now view your Top 10 Matches which contribute to your Season Score at any time.
CHALLENGE SYSTEM REFACTOR
As of patch 2.3 the whole challenge system is starting to get overhauled. The current Season 2 Challenges will be replaced by a new rotating Challenge system with reset.
The weekly challenges will be completely wiped, and instead players will get one set of 3 Challenges every week to complete. These new Weekly Challenges will be much broader in scope, so anyone can complete them with enough effort (no specific weapon or map locations necessary). They will also change every week as part of a rotating cycle across several weeks, so if you don't complete them when the time runs out, they're gone.
The 3 daily challenges will be simplified as well. A lot of our daily Challenges were very specific and didn't mesh well together. After patch 2.3 refactor, the daily Challenge will be based on a series of sets that rotate every few days and put an emphasis on playstyle rather than specific weapons or hacks.
All the existing challenges will be removed and replaced by this new system at patch 2.3, with the exception of the Challenges linked to collectibles that will stay available.
Developer Notes: Sticking to simpler challenges and reducing the number of weekly Challenges to three per week (for a total of 6 challenges maximum) should make it easier for players to focus on what they need to do to get their rewards.
Important Note: the new Challenges are intended to be more rewarding & easier to complete. This update is a first step of the Challenge System overhaul that we will monitor closely in the coming weeks.
TIME-OF-DAY
Several game modes will now feature different times of day each match. This includes all Crown Rush modes (Solo, Duo and Squad) as well as Turbo Mode and Faction War.
Time of Day Ratios:
Sunrise: 40%
Morning: 40%
Night: 20%
Developer Notes: The Morning setting is the typical one you've been using so far. The Sunrise setting, as its name entails, shows Neo-Arcadia as its virtual sun is rising, impacting shadows and light color. The Night setting is the one you've experienced in Crown Rush Solo and Squad during our Halloween event.
WEAPON RETICLE IMPROVEMENTS
Weapons' aiming reticles are now white in ADS (previously red) to improve their readability over the enemy outline & health bar.
The hit marker will now only turn red to feedback an elimination.
The weapons' Holo-sights have been uncluttered to make ADS shooting more readable.
The ammo counters located directly on the weapon models have been made more visible.
Several weapons have received art changes to their hip-fire reticle (Ripper, Hexfire, DTAP, Harpy, Salvo)
Developer Notes: Most weapons have received a series of small visual improvements on their aiming reticles and holo-sights to improve combat readability.
SQUAD FEEDBACK IMPROVEMENTS
Squad marker shape was reworked to make it more visible.
Squad marker behavior on screen edges has been improved to be less unpredictable.
GAME MENU & SQUAD MENU REFACTOR
The Game Menu has been refactored to prepare the arrival of Crossplay in December. It is now divided in tabs, one for the typical game options and the other for the Squad. As part of the change the squad menu (previously Social menu) itself has been modified, to give players an improved access to Player Profile Stats and Squad options.
Merged Game menu and Social menu into one screen with quick navigation.
Renamed Social menu to Squad menu.
Updated visuals on Squad menu to prepare for Crossplay integration.
Added Player Profile to player select on Squad Menu.
Developer Notes: The goal here is to improve the access to the squad menu page and the stats, as well as prepare the game for the arrival of Crossplay in December.
LOADING SCREENS IMPROVEMENTS
New loading screen visuals with a panel containing the game mode rules on the left and side loading tips on the right.
CONTROLLER LAYOUT MODIFICATIONS
In response to Community Feedback with this particular layout, the Jump shoulder controller layout has been updated: Weapon swap is now on Y, Melee on Right Bumper, Ping on DPAD up.
QUALITY OF LIFE
CROWNING CEREMONY SKIP BUTTON
You can now skip the Crowning Ceremony sequence at the end of a match.
MARKETPLACE IMPROVEMENTS
The purchase button in the Marketplace is now a "Hold" prompt button to prevent accidental purchases from occuring.
Discounts on bundles are now more visible.
RENDERING & LOADING IMPROVEMENTS
Added fast anisotropic specular material highlights, affecting the look and overall brightness of some surfaces such as metals.
Improved texture streaming strategies to achieve faster refresh times. You may notice a small delay in achieving full resolution and quality on certain textures such as (but not limited to) UI and ground textures.
Improved UI texture quality to ensure 4K/UHD capability even on the lower texture quality settings
BUG FIXES
WEAPONS
Fixed the clip size of the D-TAP weapon. New D-TAP Clip size Across Fusion: 15/17/19/21/23 (previously 15/17/18/20/23)
Developer Notes: This ammo changes only intends to fix a glitch in the fusion logic of the weapon, where some fusion levels were not as valuable as the other. It does not change the weapon value overall.
Fixed an issue where critical hits ("headshots") were too easy to do. This fix should reduce slightly the amount of critical hits.
Environment damages from the Salvo and the Komodo have been fixed to reflect the damages they do on enemy target.
UI
Fixed an issue where Fusion stat gain text was missing for Skybreaker.
Fixed an issue where Fusion damage stat gain info was missing for Salvo EPL.
Fixed an issue where the Second Chance death icon would not appear in Compass.
Fixed an issue causing text on already bought items to be hard to read.
Fixed an issue with the critical damage from MAMMOTH MKI not appearing red.
Fixed an issue with the "Find Another Match" option in the End Flow not responding when Right Enter is pressed.
Fixed an issue where incorrect text was displayed in ping prompts when hovered over in the World Map.
Fixed an issue where Reticle did not change with Field of View setting changes except D-TAP, PROTOCOL V and DRAGONFLY.
AUDIO
Fixed an issue with Deployment Pod's engine SFX dropping after it starts dissolving above higher buildings.
Fixed an issue where Reviving sound is played after contender leaves the tombstone while being revived.
Fixed an issue where the dormant Mine sound disappeared after setting second Mine.
ART
Fixed an issue with character models missing proper textures in onboarding.
Fixed and issue where D-Tap ammo counter display was mismatched on Anime, Autumn, Caster, Slasher and Warzone skins.
CHALLENGES
Fixed an issue where Daily challenge 'Get to the Top 15 in any squad game mode' could not be completed in Duo mode.
Fixed "fuse fully fusioned items" Challenge to properly progress if you fuse a fully fusioned item from a supply crate .
GENERAL
Fixed multiple crashes and improved the general stability of the game.
Fixed several text and localization issues.
Source: Ubisoft